Oracle Database 11g introduced the Snapshot Standby feature in Data Guard. Using this feature you can use your physical standby database to temporary process transactions. If you have a need to test out application fixes or new functionality you can leverage your physical standby while still protecting the primary database.

A Snapshot Standby database still receives redo data from the primary but it does not apply the redo data until after it converted back to a physical standby. Keep in mind that a snapshot standby database cannot be the target of a switchover or failover. A snapshot must be converted back to a physical standby prior to performing a role transition. Flashback Database technology is used in the conversion process so the Fast (Flash) Recovery area must be configured.
This document will detail the steps to convert a physical standby database to a snapshot standby using Oracle Enterprise Manager 11gR1 Grid Control.
Convert the Physical Standby Database into a Snapshot Standby Database
On the home page for the primary database you will find the High Availability section under the Active Sessions and SQL Response Time charts.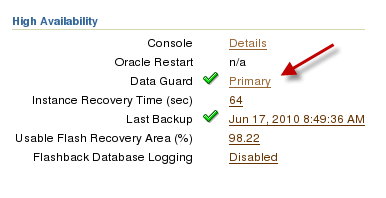 Click the Primary link to go to the Data Guard Management page.
In the Standby Databases section click the Convert button to start the conversion wizard.

A warning message is displayed informing you that the time required to failover will be increased with a snapshot standby.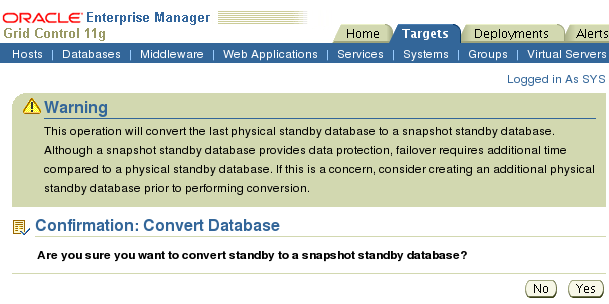 The Confirmation page is the last page in which you can abandon the conversion process. Once you click the Yes button the process to begin the conversion begins.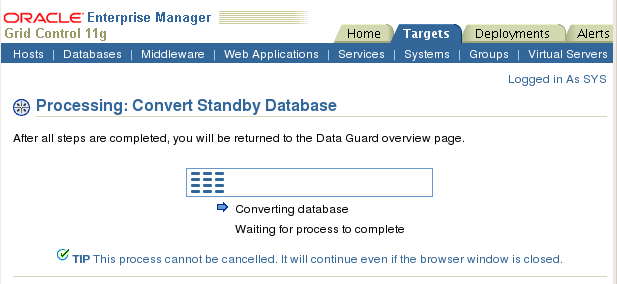 Once the conversion is complete you will be brought back to Data Guard Management page. An information panel will be displayed providing the status of the conversion.

You might get a warning in the Data Guard Status. In most cases this is due to the redo being behind, refresh your page and it should show a status of normal.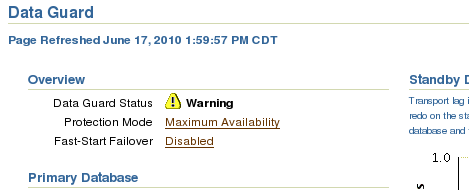 If you look at the standby you will see it that it is now a Snapshot Standby

You will notice that the chart displayed in the Standby Database Progress Summary shows Apply Lag. While the standby is a snapshot redo logs from the primary are being sent to the standby but they are not applied. So as long as the standby is a snapshot you should see ever increasing apply lag. Once the snapshot standby is converted to back to a physical standby the redo logs will once again be applied.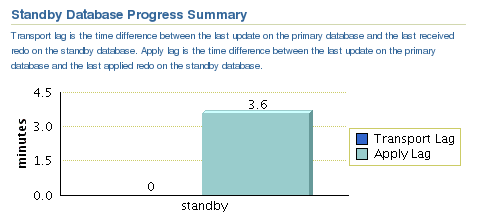 When you are done with your testing you convert the snapshot standby back to a physical standby by clicking the Convert button.